[ad_1]

LOUISVILLE, Ky. – Georgia Tech softball first baseman Tricia Awald garnered NFCA Southeast First Team All-Region honors as voted on by the Southeast Region head coaches, the NFCA announced on Thursday.
The selection marks Awald's second career appearance on an NFCA Southeast All-Region Team after earning Third Team honors in 2019. The Marietta, Ga. native is the first Jacket to be named First Team since Kelsi Weseman in 2011 and the 19th First Team honoree in program history.
Along with being tabbed NFCA Southeast First Team All-Region, Awald received high honors from the conference this season as she was also selected to the All-ACC First Team and once voted ACC Player of the Week (5/4).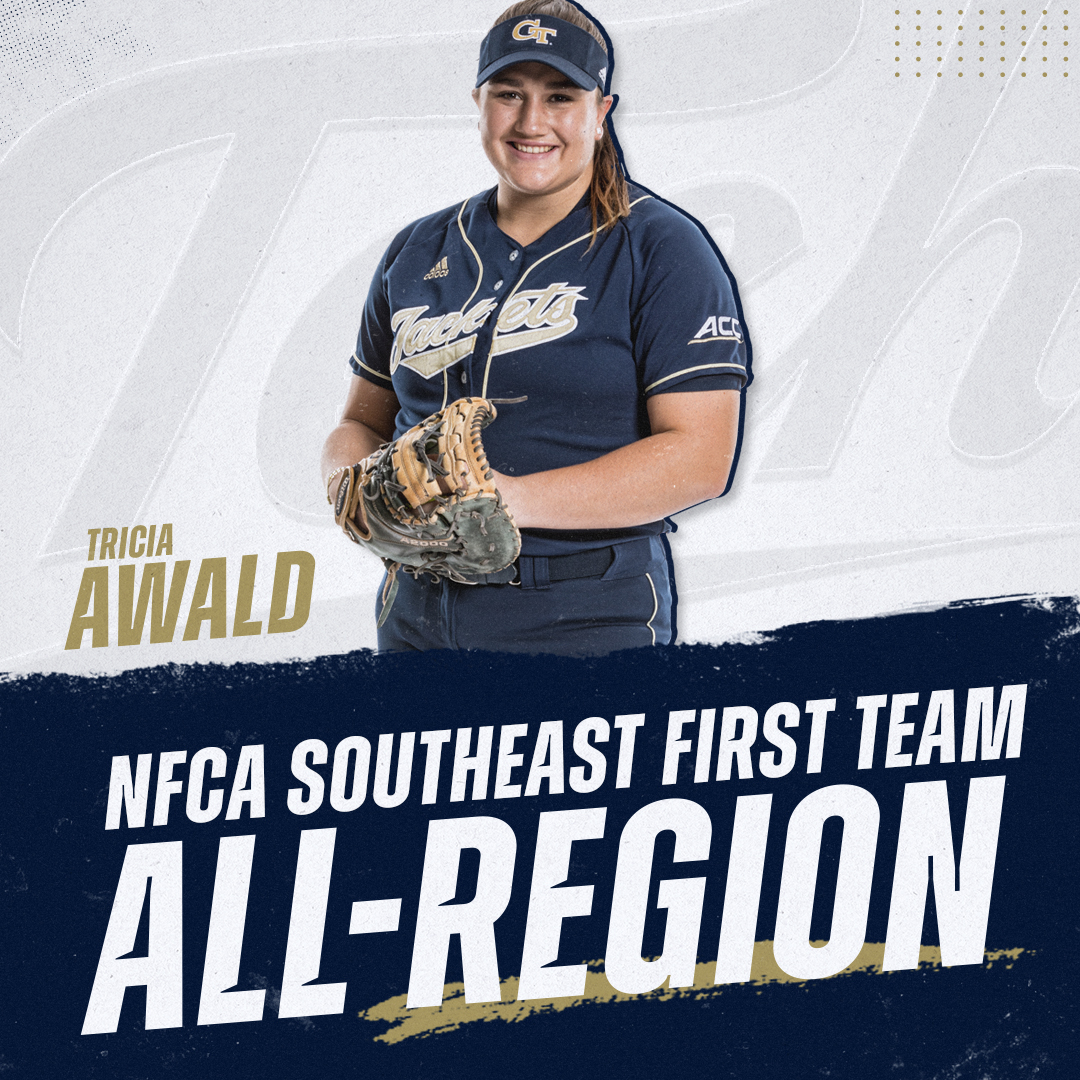 Awald put together a historic season for the White and Gold, penning her name multiple times in the Georgia Tech record books. The lefty slugger batted .411 on the year, leading the team for the eighth-highest mark in program history and the highest average for a Yellow Jacket since Ashley Thomas batted .417 in 2013. That average, along with her team-leading .726 slugging percentage, were each good for fourth in the ACC on the season. Awald excelled at reaching base all season as she posted a .555 on-base percentage, leading the squad as well as the conference and ranking 16th in the nation on her way to landing in third in Tech history.
The Yellow Jacket first baseman brought power and plate discipline all season as she led the team with 11 homeruns, the seventh-most in the league, and drew a team-high 34 walks through the year to finish second in the ACC and 27th in the NCAA in the category.
Georgia Tech concluded the 2021 season at 20-26 overall and 11-19 in ACC play. The Yellow Jackets fell to No. 13 Clemson, 2-0, in the Quarterfinals of the 2021 ACC Softball Championship following a 6-0 win over Syracuse in the First Round, including a no-hitter tossed by second-year freshman Blake Neleman.
Alexander-Tharpe Fund
The Alexander-Tharpe Fund is the fundraising arm of Georgia Tech athletics, providing scholarship, operations and facilities support for Georgia Tech's 400-plus student-athletes. Be a part of developing Georgia Tech's Everyday Champions and helping the Yellow Jackets compete for championships at the highest levels of college athletics by supporting the A-T Fund's Annual Athletic Scholarship Fund, which directly provides scholarships for Georgia Tech student-athletes, and the Support The Swarm Fund, created to give fans an opportunity to help Georgia Tech athletics maintain its recent momentum through the financial challenges of the Covid-19 pandemic! To learn more about supporting the Yellow Jackets, visit atfund.org.  
For the latest information on the Georgia Tech Yellow Jackets, follow us on Twitter (@GTAthletics), Facebook, Instagram or visit us at www.ramblinwreck.com.
[ad_2]

Source link